We need your help! I'm sure all of you remember how much I loved
Elsker
, right? Well guess what? ST Bende is allowing the readers to vote on Kristia's wedding dress. EEEKKK! WhiteZinBookends is representing Dress #1, and we would LOVE your help voting. Below is a copy of our post about why we think Dress #1 should win. However to vote, clicky over to
ST Bende's page
and VOTE DRESS #1.
Our Post:
I am a little, okay ALOT, obsessed with all things Ull and
The Elsker Saga
. White Zin Bookends is representing Kristia's wedding dress...ummmm, I mean Dress #1. Please allow me a minute to tell why Kristia should wear Dress #1. Can we please start with "Because I said so!" No? That doesn't work for you any better than it does my 1 year old? Okay, how about because it is beautiful! Have you seen Dress #1? Even Ull can't help but peek.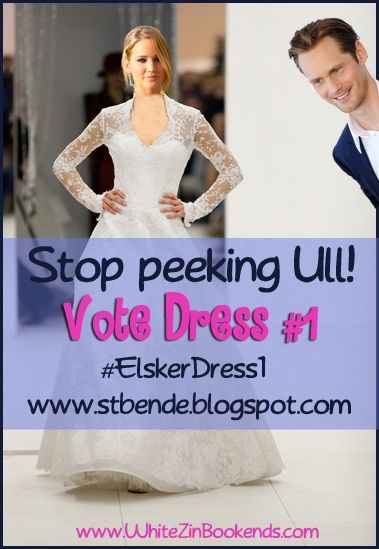 Kristia will be wearing her grandmother's dress at her wedding. Dress #1 is just old school enough to have been her grandmother's, but classic enough to still have modern appeal. This dress is timeless, just perfect for an immortal's fiance. For the love of gods, even Ull dreams about it...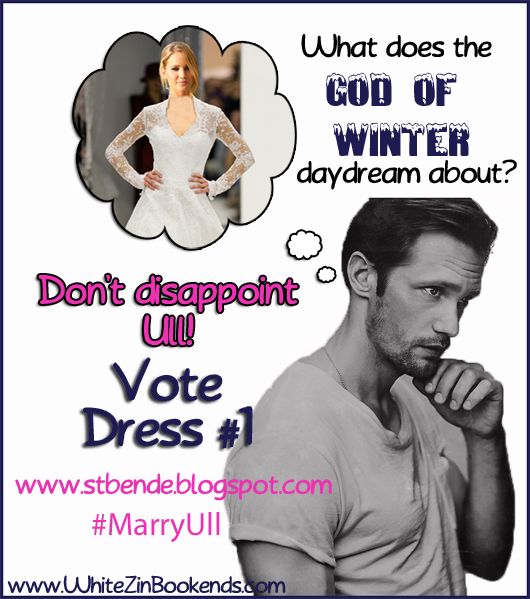 Most of all you need to vote for Dress #1 because I NEED to win the
Endre
ARC. Did you hear me? I don't just want Endre, I NEED IT! Trust me I'll write a fantabulous review before its release and you can all live vicariously through me. :) That's reason enough, right? And as a last ditch effort to get your vote...as if the dress wasn't enough. I made you a super sexy video starring Alexander Skarsard as Ull. You. Are. WELCOME. Enjoy, and VOTE DRESS #1!
CLICK HERE AND VOTE FOR DRESS #1