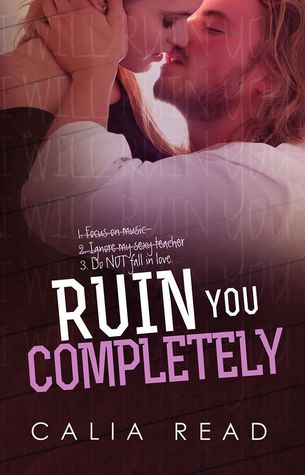 I met Mathias Sloan in a club.
Truth.
I told him I was twenty-four.
Lie.
I told him my name was Olivia.
Lie.
I thought that I would have a one-night stand and be done with him.
Truth.
I didn't know that he was my new piano instructor for the next six months…
Truth.
We would come together and fall apart. After him, every man was ruined.
Truth.
If I knew what I know now, I wouldn't have walked to him. I would've turned and run…
LIE.


"Katja," he growled as he grabbed my arm.
I pulled away and hurried to open the door. His hand landed on the door and shoved it back in the frame. I whirled around, realizing I was caged between his arms.
My lips still tingled from his kiss. It was too soon to be this close to him. His hands remained splayed against the door. He leaned in and I felt the heat of his body as if it was my own.
"Why did you come and see me perform?" I asked.
He tilted his head to the side. "Why do you think?"
"I don't know," I pressed my body against the door.
Mathias smiled, but it was dark. "Why do you keep moving? Think you can run away?" He smiled bitterly. "I've tried that. It doesn't work."
"What do you want me to say?"
"I want you to tell me you've thought about me as much as I've thought about you."
I pressed my lips together in a flat line.
Mathias' eyes were glued to mine. "You haven't thought about me at all?"
I stared at him, wanting so badly to tell him I hadn't, but knowing I couldn't. It would be the biggest lie I'd ever told. I glanced away.
"Don't look at the floor," he demanded. "Look at me."
I didn't want to look at him. At that second, all I wanted to do was stare at the ground; it was safe to look there.
"Tell me the truth," Mathias said. I felt his lips brush against my ear.
Falls Review
This is the third book in the Sloan Brothers series. This story follows the life of Mathias the eldest brother. I have been waiting for this book (along with others) for a long time now and it was worth the wait. This book is full of angst and heartache. It has characters who fight against themselves , and each other. There is an age difference in this book however, they are both legal consenting adults.
Mathias Sloan wears the bad-boy, tough-guy mask well. Hiding his secrets and his pain is something that he is good at. Keeping people at a distance is something he is good at. The piano is something he used to be good at. That was before his perfectly planned out world shattered in front of his face. Approached by a family friend to teach his granddaughter how to live and breath the piano, Mathias has a hard time saying no to something he once loved. 6 months in Germany teaching and hearing the piano is a an offer that is hard to say no to. Besides he can do anything for just 6 months.
"I want you to tell me you've thought about me as much as I've thought about you."
Katja has lived under strict rules governed by her grandfather. Raised by her grandparents the only thing she knows is the piano. At 18 years old she wants to live and experience life. A smart mouth and quick wit, not to mention an amazing body find her leaving the a bar with a complete stranger. She knows what she's doing is dangerous but she can't find it in herself to care, and the way this man makes her body come alive is of another world. So what if she told him a few white lies. Its not like she will ever see this handsome stranger again. One night, one night is what she wants to just break from her mold and not think about the consequences. If only she knew when she left that bar she was leaving with her future piano instructor.
"I don't know what you think I can give you, Katja."
"Everything," I whispered. "You can give me everything."
The story then chronicles the 6 months that Mathias spends as Katja's instructor. The desire they feel for each other. Mathias constantly pushing himself further away, shutting himself off and convincing himself how wrong it is to have feelings for his student. Katja struggles with her feelings for Mathias and why he is putting up his walls around her. The attraction is thick and the constant sexual tension is enough to light anyone on fire. You want to yell and scream and shake them both and tell them to just get over it and f*ck already!! This is a story to see if love can stand the test of time as these two lovers are brought together time and time again. Can Mathias open his eyes and see what is standing right in front of him? Can Katja stop denying that no matter how hard she tries her heart still beats for one stubborn, broken man. Is love enough?
"Trying to seduce a Sloan was like taming a wild animal. It wasn't an east feat. But if you finally got them to give up, they would give you everything they had."
This book was a heart wrecker. It ones you up slaps you around and closes you back up with duct tape. Still beating, just a little battered. I loved Mathias even though I wanted to shake him at times. He was so broken that he truly felt he wasn't worthy of someone love. I loved Katja because she wasn't weak. She fought and she stood her ground and time and time again she picked herself back up. You can only fall down so many times before you need help standing. I would highly recommend the Sloan Brothers series to all readers. This book can be read as a standalone and you will not feel lost. Go grab your copy, a box of tissues, and a bottle of wine because thats what you will need to make it through this book. I give Ruin You Completely by Calia Read 4.5 glasses of wine. Cheers and Happy reading!!!
"The problem is that sometimes opposites don't attract. Sometimes people are so different, that instead of complementing each other they ruin one another."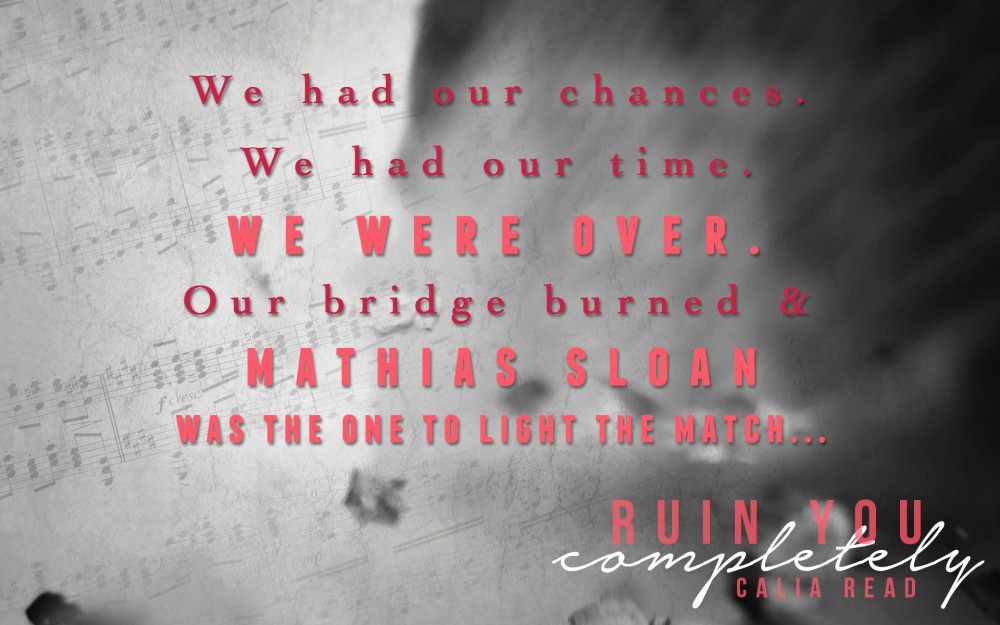 Calia Read lives in Indiana with her husband and their four kids.
♥READ THE SERIES♥
Book 3 - Ruin You Completely - Amazon | B&N